Regular price
Sale price
$24.99 USD
Unit price
per
Sale
Sold out
My favorite part of making each sweet potato cheesecake is undoubtedly experiencing the variety of aromas the recipe possesses.  Each ingredient gives off a unique profile, then harmoniously blend together to create something completely new and even more satisfying to the senses.  I've often imagined the day where customers walk into the Sweet Renaissance Flagship as these aromas fill the air so that I could share the experience with them.  This brought me to partner with Ariel's Candle Shop & I'm excited to announce we've created a way to bottle that vibe & bring it to your home!
Scent Notes: Cream, Sweet Potato, Pecans, Sugar & Spice. 
We understand that most dessert inspired scents can be overwhelming.  Often times so sweet that they are literally sickening.  Sweet Renaissance is a unisex home fragrance that is comforting, calming and a tad bit sensual all at once.  If you've had the cheesecake then you understand completely lol.  It's blended perfectly with just the right amount of everything & not too overpowering either way.  

This 6.5oz soy blended candle is hand poured in small batches free of toxins and phthalates. The wick is made of lead free cotton to give the optimal clean burn and ultimate scent throw. 

Burn time: 45-50 hours (with proper care)

Candle Care
Do not burn your candle for more than 4 hours at a time. Our candles come pretrimmed for immediate use. After the first burn, please be sure to trim your wick to 1/4" before each use.
Never leave your candles unattended, always burn your candles within a visible distance and away from flammable surfaces.
Ingredients

OG: Sweet Potato, Cream Cheese, Spice blend, Vanilla, Sugar, Sour Cream, Heavy Cream, Eggs,

Sweet Ren Crust: Graham Cracker (Sugar, Butter).

Vegan: Sweet Potato, Vegan Cream Cheese (Water, Expeller Processed Natural Oil Blend (Soybean, Palm Fruit and Olive), Maltodextrin, Soy Protein, Tofu, Non Dairy Lactic Acid, Blend of Natural Gums (Locust Bean, Guar, Cellulose, Xanthan and Carrageenan), Organic Sugar, Veg. Mono and Diglycerides, Salt), Spice blend, Vanilla, Sugar, Coconut Cream, Corn Starch.

Pre-made Crust: Graham Cracker Crust ( Graham Cracker, Vegan Butter (Organic Coconut Oil, Organic Cultured Cashew Milk, Filtered Water, Organic Sunflower Oil, Contains 2% or less of: Organic Sunflower Lecithin, Organic Cultured Dextrose, Natural Flavors Derived from Oregano, Flaxseed, and Plums, Lactic Acid), Sugar).

Contains Gluten
Shipping

Shipping Price includes cost of 2-3 Day Priority Shipping, Insulated Shipping Container & Dry Ice.

PLEASE NOTE:

LOCAL PICK UP IS AVAILABLE TO PARTS OF THE NYC & DMV AREAS ONLY.  DELIVERY IS AVAILABLE TO PARTS OF THE DMV AREA ONLY.  RESIDENTS OF ALL OTHER AREAS WILL HAVE TO CHOOSE SHIPPING @ CHECKOUT.
Share
View full details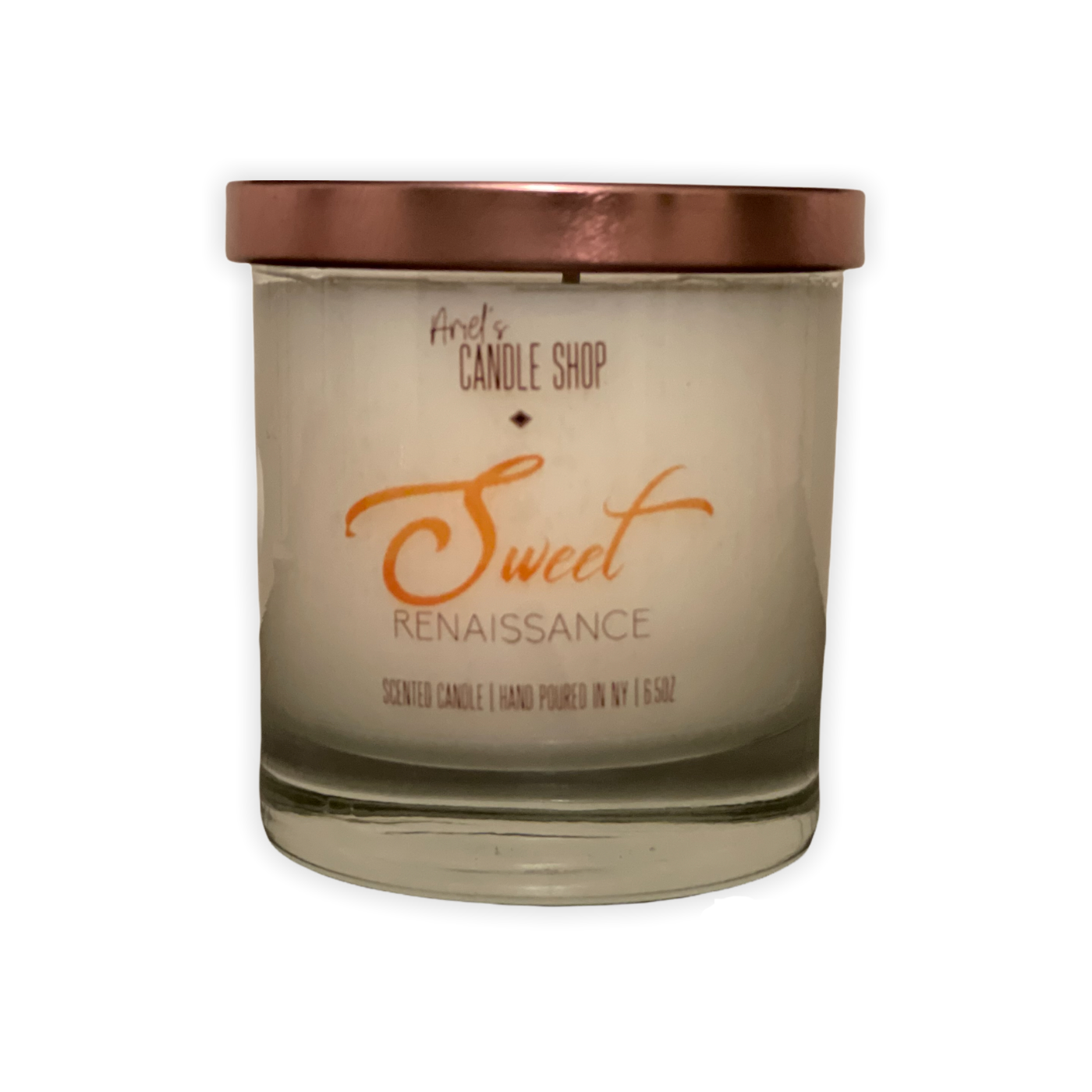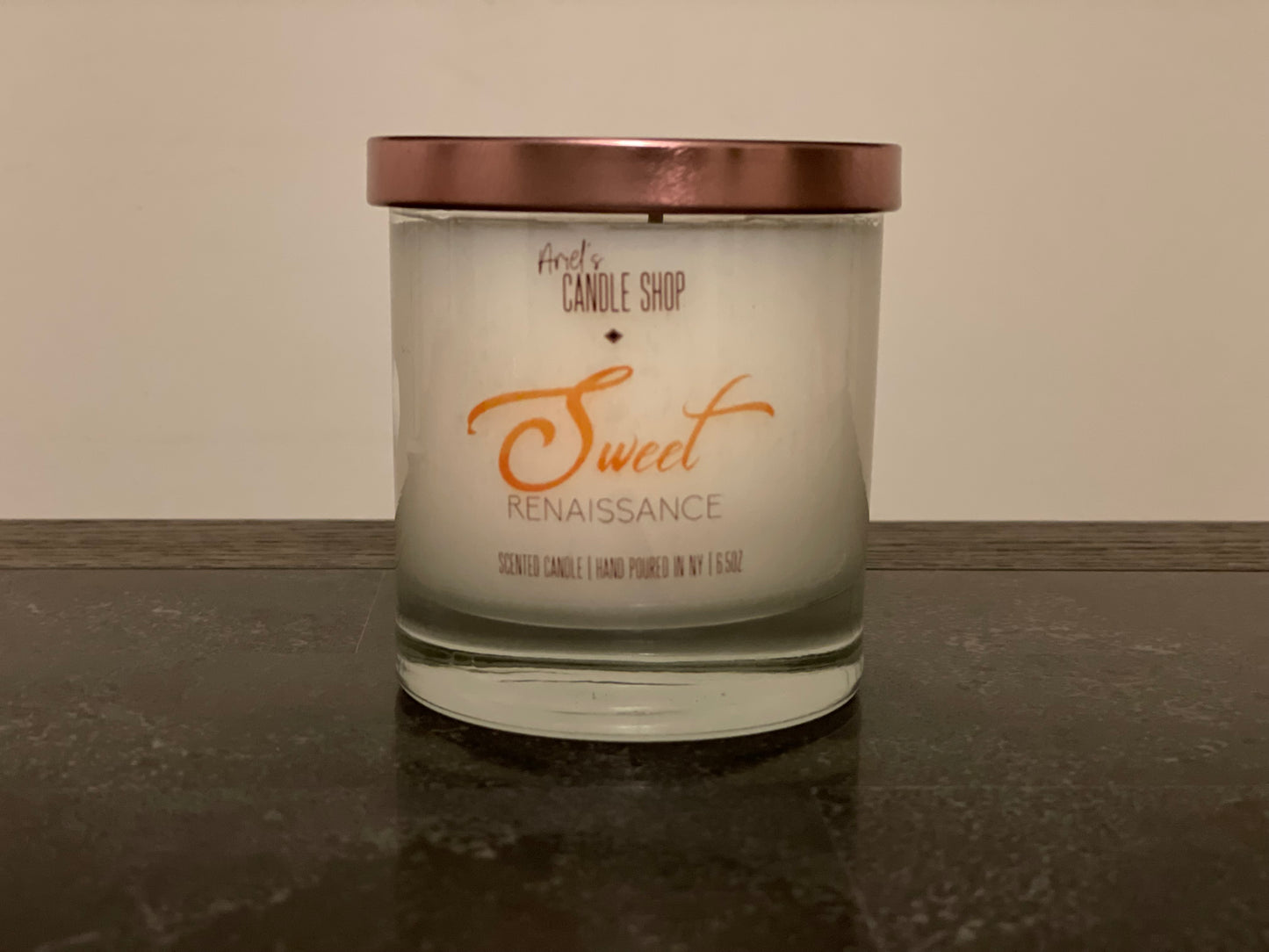 The Sweetest Taboo!
It's always tricky purchasing candles sight unseen or in this case, smell untested.  Add in the possibility that it's been made to fashion one of your favorite desserts & there is the chance of "too sweet" or nausea setting in once lit.
However, in this case, NONE OF THE ABOVE is true!  Having been a loyal supporter of all things Stay Hungry Cloth & Sweet Renaissance for a while now, one thing is for certain and two things are for sure - 1, the Service will ALWAYS be Top Notch; and 2, the Product & Quality will INDEED be Impeccable!
This Sweet Renaissance candle is all of the above and more. A sensually sweet & sultry smell that reminds you of good vibes & good times with those you love and those you wish you could + that too good to be true, taboo feeling. It's damn near orgasmic + much like the taste of the Sweet Potato Cheesecake if you've ever had it! (If not, you played yourself + go cop one NOW!)
And, the burn is nice and slow + a testament to the research done in choosing to collab w/Ariel's Candle Shop. (BTW, support her too!)  I've gotten at least 2-4 hours per day out of my 1st candle, (I have 4 currently, don't judge me!) burning from January 11th - Feb 3rd. Do the math + add a couple to the cart = Best Decision Ever!
Can't wait to receive my 2nd batch of the new design!  This is a for sure a 10 out of 10!
Amazing!
The candle is absolutely amazing! I enjoy the fact that it's not an overpowering scent. I would definitely purchase more! Love Love Love it!
Sweet potato, spice and everything nice 😊
The 1st whiff took me back to my Nana's kitchen…I legit closed my eyes for a few seconds to reminisce…she was a masterful baker and although I hate(d) all things sweet potato…there was nothing like the smell of her sweet potato pies and bread. I opened my eyes and while putting the lid back on the candle I got a whiff of something totally different…it's as if the candle whispered, "but wait, there's more" that whiff was seductive, suggestive…dare I say a lil naughty even?!?!?! "Sweet Renaissance" is a winner!!! I'm exited to see what else you have up your sleeve. #Salute
One of the best candles I've ever owned
The candle smells amazing😍. It' has nice packaging and comes with a hand written note for your purchase. It shows the thought and effort put into each item. I have burned my candle all day so far (since 8:17am est) and it looks like it's been barely used. Definitely worth every penny. All my other candles would be half way gone already. Thanks again! Looking forward to purchasing more.
My new favorite candle!
I love the fragrance of this candle so much! It makes my home smell so nice and gives a nostalgic feeling of what the holidays feel and smell like. The price point to me is just right- worth it when it's great quality. Can't say enough about the brand and the owner especially when there is a personalized hand-written note of gratitude. I will definitely keep it here with Sweet Renaissance! Much love!